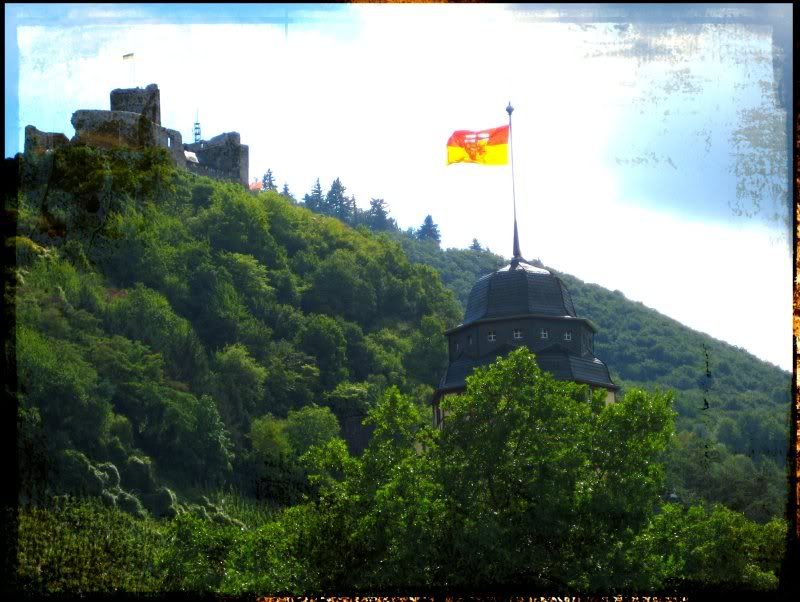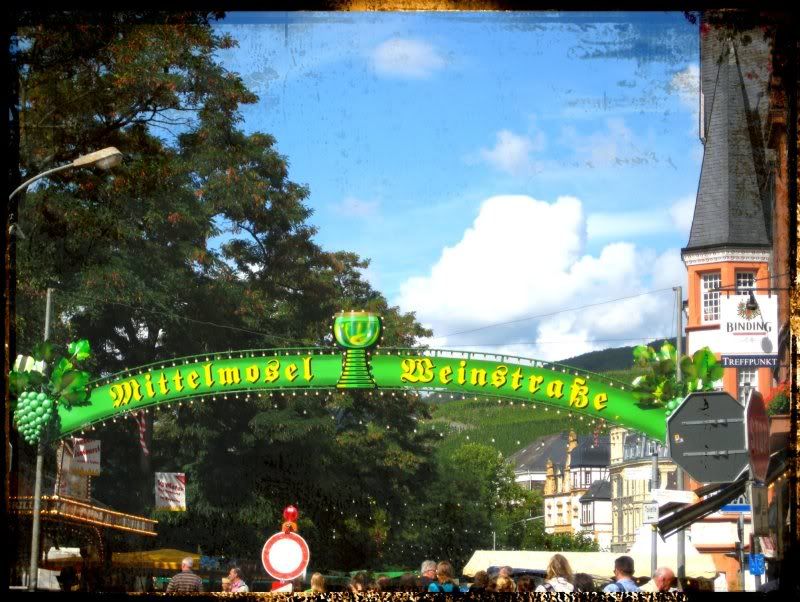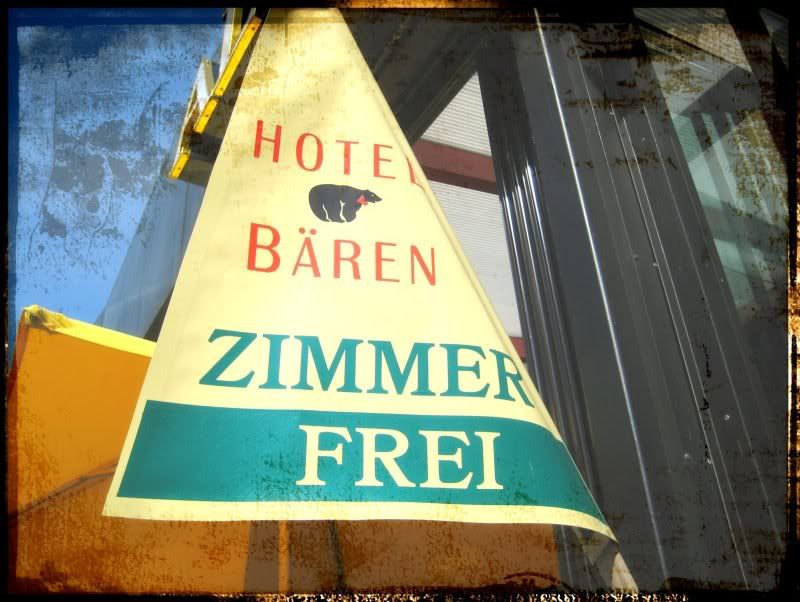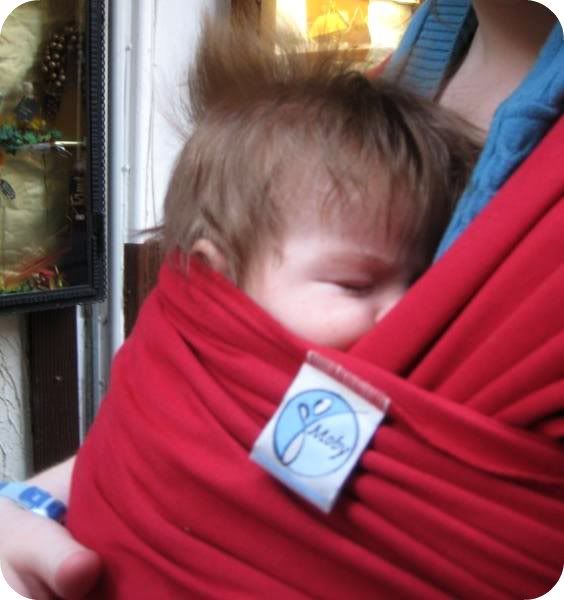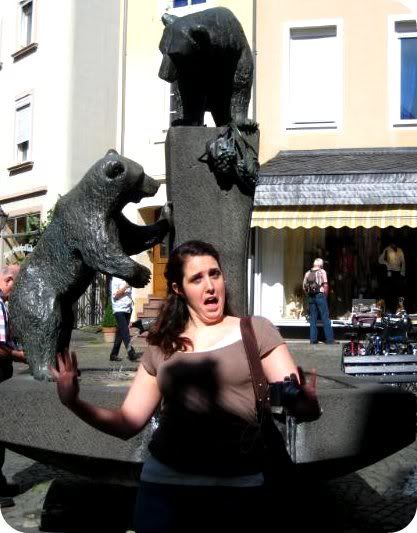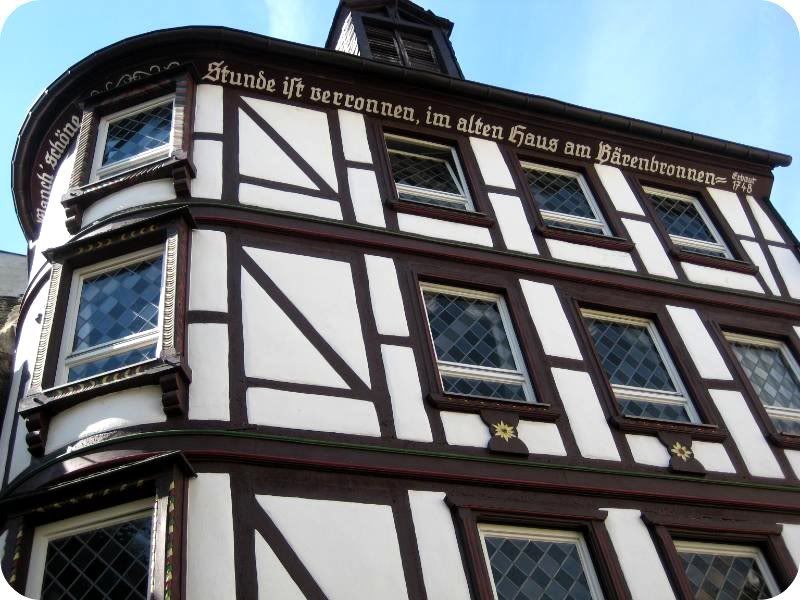 So on Monday, while the sun was shining, Christa, Evie, and I headed over to Bernkastel-Kues. I'd heard their annual wine festival described as the Oktoberfest for wine lovers, but didn't realize that it was taking place this week. Thankfully we were there during the day, so it was not yet as crowed (or intoxicated) as I'd heard tell. On the way there Evie got hungry. Trying to plan a trip around her nursing needs can be daunting. By the time you've fed her and gotten everything ready to go, she can often be hungry again before you even arrive at your destination.
We were only a few minutes outside the town when we came upon a look out point that was a perfect place to park and let Evie eat. There was a painted wall that looked like it was the entrance to one of the hillside vineyards, and the view overlooking the valley was beautiful. Evie's meal was well under way when all of the sudden an 18-wheeler rounded the hair-pin turn that bordered the look out point where we were so peacefully parked. The 18-wheeler was coming right for us and as he neared I could see the driver motioning to me. He wanted me to move my car so that he could turn around in the shoulder that had become my makeshift breastfeeding nook. Exasperated at his timing, I start considering my options. Staying put under the threat of a good ole fashion smooshing didn't seem like such a good choice, so I figured I'd better stop nursing and try to get out of his way. I'm really aggravated at this point, thinking I need to strap Evie back in her five-point harness before I can move the car, only to have to take her back out AGAIN so she can finish eating. Then I remember I'm not the only adult in the car, and so I hand Evelyn off to Christa, who stands in the grass with The Squishy while I move the car so Mr. 18-wheeler can do his u-turn. He looked rather sheepish when he saw the whole process go down and realized he'd interrupted Lunch Part III (or however many Evie was up to at that point).
I'd put on the moby wrap before leaving the apartment, and planned to carry Evie that way since I've found that the pathways and pavement are not always stroller-friendly when adventuring in the European country side. Once we'd parked, Christa helped me situate Evie in the wrap, facing in to me, tummy to tummy, her little pj-footed feet dangling out the bottom. The carrier was a good call, as the streets were cobblestone and fairly crowded. We weaved in and out of the crowd and took in the sights along the cafe-lined winding roads. There were lots of people sitting out, enjoying the weather, wine glass in hand, and as we continued to walk I became aware that people were smiling at me. More to the point, they were smiling at Evelyn.
With a dog like Chokydar, we've gotten used to attracting attention when we travel. Her hair is so unique; it's not every day that you see a puli. We've become accustomed to people oogling over our dog, but as I walked the streets with Christa and Squishyton, it became apparent that Choky had competition for the title of Family Member With The Wildest Hair. I don't know if the moby helped accent Evie's cuteness, as only her dangling feet and poof of hair were visible, or maybe the wine was starting to take affect, but heads were turning as we strolled along. One table of elderly German women in particular cracked me up. They were seated at a round table, and as we passed, the eyes of the woman facing us widened. She breaks into a wide grin and turns to her neighbor, pointing unabashedly at my daughter. Before you know it, the entire table of 6 or so women were turned around in their chairs, necks craning, smiling, pointing, and laughing in our direction. Evelyn, on the other hand, slept soundly, her tiny 8 week old little Koosh ball head, tucked quietly under my chin.