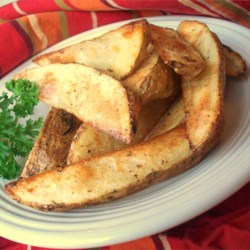 y mother had a recipe for oven baked french fries, and lately I've been really craving them. I found
this recipe
online at Allrecipes.com and can tell you after trying it the other night that it was a HUGE success. Completely addictive and so much healthier than fried fries, if you're a potato fan, you need to try your hand at these:
Ingredients:
1/4 cup grated Parmesan cheese
1 tablespoon olive oil
1 teaspoon onion powder
1 teaspoon garlic powder
1/4 teaspoon ground black pepper
1/4 teaspoon salt
2 russet potatoes, scrubbed and cut into eighths
Directions:

Preheat an oven to 425 degrees F (220 degrees C).

Place Parmesan cheese, olive oil, onion powder, garlic powder, pepper, salt, and potatoes into a resealable plastic bag. Seal the bag, then shake to coat the potatoes with the seasoning. Spread the potatoes over a baking sheet.

Bake in the preheated oven until the potatoes are easily pierced with a fork, about 25-30 minutes.